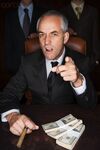 The father of Claire and Chuck and Hannah's stepfather. He is one of the richest men in the world and lives with his family in Dunder and sometimes in New York, London or Moscow. He has been married to Lillian Prescott and Sandra Baker. He mostly behaves like a harsh businessman, but to his children he is a loving father. He is also seen to be a big fan of his daughter-in-law Elizabeth Brewington, who he warmly welcomes into the family.
Ad blocker interference detected!
Wikia is a free-to-use site that makes money from advertising. We have a modified experience for viewers using ad blockers

Wikia is not accessible if you've made further modifications. Remove the custom ad blocker rule(s) and the page will load as expected.