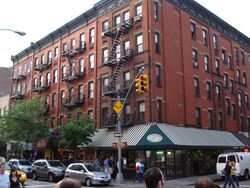 The Village apartment is the apartment
Chuck
and
Beth
move into after Chuck proposed. They decorate it with a mix of stuff from
The Brooklyn apartment
and from Ikea. It is a really comfortable apartment with just enough space to host diners, but not to much to feel alone in it when you're home alone. The apartment is located on the upper floor of a walk-up building with a typical fire escape.
Ad blocker interference detected!
Wikia is a free-to-use site that makes money from advertising. We have a modified experience for viewers using ad blockers

Wikia is not accessible if you've made further modifications. Remove the custom ad blocker rule(s) and the page will load as expected.